How to borrow data from Airtel, MTN, 9mobile, Glo and Ntel
Sometimes, your data subscription gets finished in the middle of browsing about important stuff. At this point, the option would be to borrow data and pay back later. This service is really helpful to many individuals, especially in emergency situations.
You can borrow data using the USSD code which I will reveal as I proceed. This can be done on any device be it Blackberry, Android, iOS, or any internet-enabled device. Your account will be debited anytime you recharge at the exact amount of data that was loaned.
But before then, there are some terms and conditions that must be met, you can see some of these terms and conditions below.

Terms and Conditions:
1. You must be an active subscriber for a minimum of 90 days (3 months).
2. Your line must be registered and regularly recharged.
3. You must pay back all borrowed airtime.
4. You would remit 15% of the requested credit as service charge. E.g. For a credit request of N100, N15 will be remitted to the network provider and you get to keep the remaining N85.
If you were able to meet the requirements above, you can now proceed to borrow data using the steps below:
How to Borrow Data MB from Glo
Glo as the cheapest data provider in Nigeria also provided an option called Borrow Me Data that enables all their eligible subscribers to borrow data when every they run out of data and when they need it most.
Data available on Borrow Me Data include:
30MB
60MB
200MB
1.6GB
3.2GB
To Borrow Data from Glo simply dial *321#.
How to Borrow Data MB from MTN
When it comes to fast and reliable data provider in Nigeria then you should think about MTN because they are one of the best mobile telecommunication in Nigeria that provides fast and reliable data plans and also have an option called MTN XtraByte that enables you to borrow data MB from MTN when you run out of data and needed it urgently.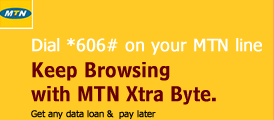 How much data you can borrow
XtraByte Data Price Validity
10 MB N55 24 hrs
30 MB N110 24 hrs
100 MB N220 24 hrs
200 MB N330 48 hrs
750 MB N550 7 days
To borrow data MB from MTN simply dial *606# on your MTN line
How to borrow data MB on 9mobile Network
9mobile can be rated as one of the fastest data providers in Nigeria, they have their option called easycredit which allows their subscribers to borrow airtime for voice, data and additional services on the 9mobile network and repay the loan on their next recharge.
Data you can borrow
As at the time of this publication, 9mobile doesn't have direct code to borrow data but you can borrow airtime credit from them and use it as data or subscribe to a data plan.
pricing and tariff
Available amounts for borrowing are: N50, N100, N200, N500 and N1000. you'll pay 15% of the borrowed amount as a service fee. For example, when you borrow N50 you'll receive N42.50.
To borrow airtime from 9mobile, dial *665#, then select your preferred amount.
How to borrow data MB on Airtel Network
Airtel have won many awards based on their data services in Nigeria and they are still on the business till date, you can borrow airtime and use it for data subscription.
*500*50# for N50 airtime
*500*100# for N100 airtime
*500*200# for N200 airtime
*500*500# for N500 airtime